Description
Icom IC-V80 VHF Hand Set Two Years Warranty LAMCO Barnsley
Icom IC-V80 VHF Hand Set Two Years Warranty LAMCO Barnsley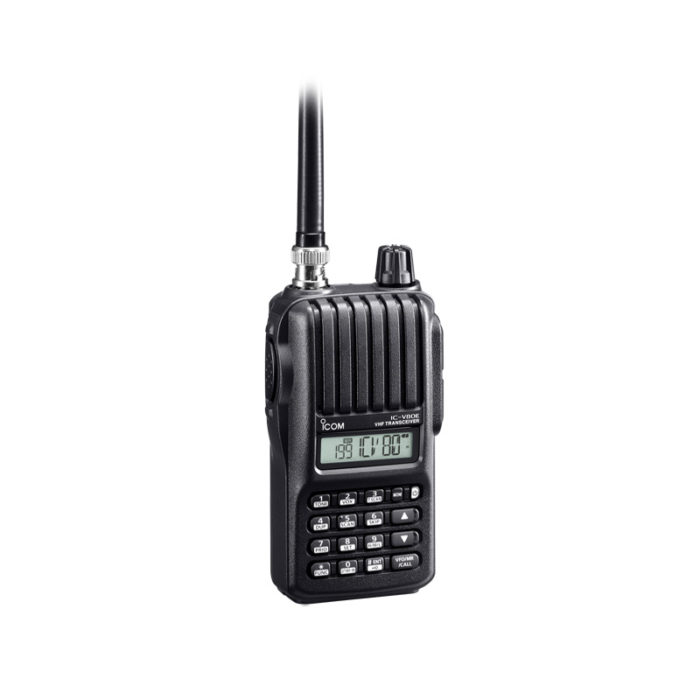 VHF-FM-Transceiver
Rugged and Basic 2M with Powerful Audio!
Icom radios are built tough, and the IC-V80/E – Icom's most economical 2M – is no exception. This military rugged rig offers water resistance and superior protection against dust and dirt (IP54). Compact, rugged and with plenty of power, the IC-V80/E is ideal for basic, on-the-go ham operations.
Description
750mW loud audio*
The IC-V80/E uses the BTL (bridge-tied load) amplifier that doubles the audio output. The 36mm large speaker delivers 750mW of loud and intelligible audio*. Great for noisy environments.
* Typisch am eingebauten Lautsprecher
Powerful 5.5W of output power
The IC-V80/E offers a just-right mix of power and size. 5.5 watts of high power will work to get your message through. Get up to 19 hours* of operating time with the Li-ion battery pack (BP-265) or 13 hours with the Ni-MH (BP-264). All that power comes is an easy to hold and use size – not too big, not too small.
* Typical operation. 5:5:90 duty cycle with power save on.
IP54 and MIL-STD-810 rugged construction
The dust protection and water-resistance equivalent to IP54 provides reliable operation for practical outdoor operation. The IC-V80/E tested to and passed 11 categories of MIL-STD-810 environmental tests.
A total of 207 memory channels
The IC-V80/E has a total of 207 memory channels, including 200 regular channels, 6 scan edges and 1 call channel. The channel name is programmable with 5 characters for easy recognition.
Built-in CTCSS/DTCS
The CTCSS and DTCS tone codes provide quiet stand-by and allow you to use tone-access repeaters. The pocket beep alerts you when a matching tone frequency is received. The tone scan detects the subaudible tone that is used for repeater access.

Internal VOX function
The IC-V80/E has internal VOX (Voice Operated Transmit) function for convenient handsfree operation with a compatible optional headset and plug adapter cable. Also, the VOX gain and VOX delay time are adjustable.
Other features
WX channel and weather alert function (USA version only)
Program, memory, skip, priority and tone scans
Power save function
BNC type antenna connector
Automatic repeater function (USA version only)
1750Hz tone for European repeater access (IC-V80E only)
TOT (time out timer) setting
Repeater lockout and busy channel lockout
PC programmable with optional CS-V80
Transceiver-to-transceiver cloning (Optional)
Direct keypad frequency entry
DTMF autodial memories
Auto power off
LCD backlight
Wide/narrow channel spacing
Supplied accessories
Battery pack, BP-264

Normal loader, BC-192

Power supply, BC-206SE

Antenna, FA-B2E

Belt clip, MB-124

hand strap
Amateur Radio Shops HAM Radio Dealer Supplier Retailer.
Alt Text LAMCO New/Second Hand Twelve Months Warranty.
Near The Alhambra Shopping Centre.
Barnsley, South Yorkshire, UK.
Amateur Radio Sales. HAM Radio Sales.
We are Premier Dealers For Icom, Kenwood & Yaesu.
hamradio-shop is my favourite HAM store!
HAM Radio Shop, HAM Radio Shops, Amateur Radio Dealers, Amateur Radio Dealers UK.
Amateur radio Dealers, HAM radio dealers UK .
We are a family business supplying world leading amateur radio equipment.
We are small enough to care and large enough to cope!